*
*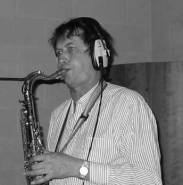 Robert Juritz
Robert Juritz, now based in London, was born in Cape Town. He was awarded several gold diplomas as a child playing the piano and bassoon in the local Eisteddfods. He went on to study music at the University of Cape Town and graduated with a B.Mus in 1978, with a first class pass in performance. During his University studies, Robert Juritz was selected for the South African National Youth Orchestra. Whilst on a European tour, he was selected to play for the International Youth Orchestra that performed at the Albert Hall under the direction of Claudio Abado.
He played with the Cape Town Symphony Orchestra, National Symphony Orchestra and St George's Cathedral Chamber Orchestra. He also worked with several theatre companies as a musical director, composing incidental music the productions. Robert Juritz also performed with the leading Cape Town jazz musicians from 1974 till 1980.
He left South Africa in 1980, to teach music in Namibia, at the Windhoek Conservatoire of Music. Robert Juritz came to the UK in 1981 and co-founded the musical theatre company 'Skirted Issue' with Michele Maxwell, Sarah Mc Nair and Leonie Hofmeyr. They went on to produce a hit show on the Edinburgh Fringe Festival called 'Boogie Woogie Bubble and Squeak. The show subsequently transferred to the West End and toured to packed houses in Holland and Belgium.
Robert Juritz has performed and recorded in the UK with many different groups, covering an extremely broad range of musical styles. This work has included contemporary music, classical music, commercial studio work, music for theatre, TV, live music for the classic silent films and animation, along with jazz, playing in clubs and doing benefit events. Better known groups include Chris McGregor's 'Brotherhood of Breath', whose last recording was with saxophonist Archie Shepp. The recording of "Music for the Third Policeman" by Django Bates with 'The Powder Room Collapse Orchestra' was voted as one of the best five jazz albums of 1990, by both the Guardian and Q magazine.
Robert Juritz is a successful composer. He has composed a Jazz Concerto for soloist and chamber orchestra, commissioned by GLA and based on themes from the pianist Mervyn Africa, who performed the solo improvised part, when it was premiered at the Bloomsbury Theatre in a crossover concert by 'OPUS 20', conducted by Scott Stroman. He was subsequently been commissioned by Shikisha Arts to compose an hour long contemporary ballet for dancers and 10 musicians based on Southern African mythology.
He has also composed music for his own contemporary music group. The music has strong jazz and ethnic musical influences. It has performed at the Riverside Studios, the Vortex and the 100 Club.
Robert Juritz has continued with his education in the UK. He studied composition with Carey Blyton at the Guildhall, bassoon privately with Martin Gatt (LSO) and conducting with Lawrence Leonard at Morley College.
He took part in a Music Workshop Skills Course as Goldsmiths' College and gained experience in leading music workshops at institutions such as Camden Hostel for Homeless Women and at St Christopher's Hospice.
He subsequently went on to do a PGCE in Music. His teaching and composing projects were extremely successful projects in both primary and secondary schools The teaching practise schools asked him back so that they could use his pieces for their concerts. His dissertation was based on new technology, computers and composing. It examined the influences of new technology and what effect it has had on the creative, educational and social aspects of school music making.
His secondary school teaching experience in London ranges from challenging inner city comprehensive schools to high achieving international schools. He is fully conversant with the National Curriculum, OCR and IB examination boards. He has also entered and accompanied students for the ABRSM examinations.
Robert Juritz has had experience in designing new schemes of work, writing new policies on assessment and writing departmental action plans. He has raised standards in the extra curricular music and has co-produced a string of musicals including Toad of Toadhall, Sweeney Todd, Fiddler on the Roof, Wizard of Oz, Alice in Wonderland and Oliver. He has also directed many successful Christmas Concerts and Summer Stage Concerts.
His 'School & the Community Work' has involved taking the school band to do Christmas concerts for the Hillingdon Hospital . He has also managed many visiting work experience students from the local comprehensive schools, providing them with an insight into the education profession.
Robert Juritz left the American Community School to spend more time with his young and growing family. He subsequently enjoyed several months of supply teaching, giving him the opportunity to teach in many different schools and reflect on different working environments.
In January 2003, he returned to full time teaching as acting Head of Music at Aylwin Girls' School in Southwark. He then went on to teach music at Sedgehill School in Beckenham and Forest Gate School in Newham. He has subsequently broadened his horizons by going into SEN teaching and teaching GCSE Maths at pupil referal unit. He is now teaching music and maths in Tower Hamlets.
The last performance with legendary Brotherhood of Breath at Ronnie Scott's on Sun 27 March 05 was a sell out and very well reviewed.
More recent recordings have been with the Tito Lopez Combo and the band Jive Nation with Louis Ribeiro.
Contact Details:
rob@robertjuritz.com